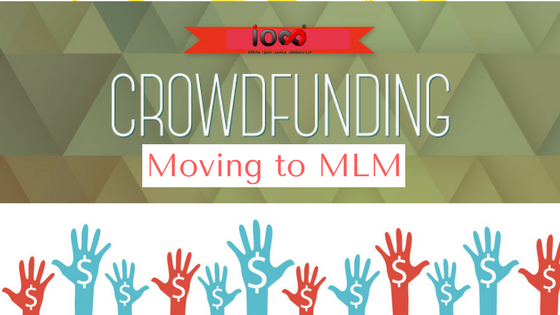 Crowdfunding in MLM is a new collaboration of two of the network business strategies the Multi Level Marketing and Crowd Funding. Crowd Funding is an act of funding an existing project or starting a new venture by raising financial contributions from a group of people via various methods including online and offline using the internet and social media platforms.
Crowd Funding In MLM – A Source To Boost Capital in MLM Business
The main goal of crowdfunding with MLM is that it can attract a good no.of positively interested individuals to the MLM Business without investing a large amount of money.
Crowd Funding in MLM is mainly focused on pre-launching MLM Companies. A new company looks to spread its interest through crowdfunding communities. New MLM Pre-launch companies are launching with a crowdfunding portal for active participation of the public.
Get the best Crowd Funding MLM Software available in the Industry
And this, in turn, comprises two major emerging industry crowdfunding and  Multi Level marketing. The interesting part about crowdfunding is that even the smallest contributors can also have a crowdfunding webpage.
Today's world famous companies are established using the same method as well while some of them are trying to follow various direct models such as Amway.
Crowd Funding MLM – How It Works?
Crowdfunding has three phases – Project Plan, Project Launching and Fundraising.
#1. Project Plan
In this phase a basic plan for the project is prepared, basic project plan, project aim, and estimated cost are determined in this phase. Most of the crowdfunding projects are based on charity. Since charity has better chance to drive more effective funds.
#2. Project Launching
This phase the planned project is launched to the public requesting funds. This phase includes the promotion of the project in online and offline.
#3. Fundraising
This is the main phase of a fundraising organization. Here the required fund is raising a community people or say, public individuals.
Crowdfunding With MLM
As the new trend, two of most popular business structures are combining. In the crowdfunding combined with MLM business. Crowdfunding is more involved in new member registering side or downline development.
In a crowdfund MLM system, unlike from MLM plans system, here a new member or a downline member is added or introduced through crowdfunding forums. In this system literally a new member is not added he or she becomes a part of a crowdfunding project with his share of the project, commonly there is no specific starting fee for a crowdfunding project, but sometimes there may charge 3-5% of the fund. usually, the project managing company raise the fund from the public and thereby reaching the project to more and more people thereby increasing the chance of success.
Explore more to know Crowd Funding & the numerous Benefits
A success behind a crowdfunding system lies in the project genre. Usually, the crowdfunding projects are involved with some charity programs which will generate social awareness. The advantage which such projects is that it will get promoted without any promotional tools, and more public people will be interested to be a part of this charity program which will make the project bigger and thereby good profit.
Crowdfunding with MLM will make the MLM business more simple and popular. Because of the simple to plan and easy participating features will inspire more people and the chance to be part of a charity program can also be an interesting fact to join.
An effective MLM Software can boost your MLM business in a big way, Register to check out the Crowd Funding MLM Software demo here.