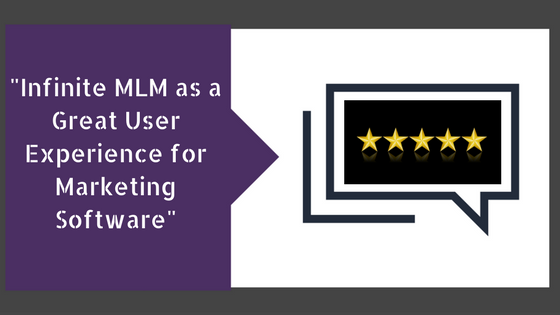 The Infinite MLM team is proud to announce that a reputed business software directory has considered Infinite MLM as one of the gold standards in the marketing software platform. FinancesOnline recently awarded Infinite MLM with the 2018 Great User Experience award for our platform's robust functionalities and ease of use in facilitating MLM processes. Infinite MLM software having plenty of beneficial and popular MLM Integrations like replicating website, automatic payment, wallet, mobile apps, e-commerce integration, SMS integrator, multilingual support and backup system. At present, company serve across 60 countries and numbers are just climbing up.
The Great User Experience recognition is awarded to software solutions that have passed FinancesOnline's quality standards for marketing software with regards to ease of use in facilitating one's work processes. Functionalities that allowed Infinite MLM to receive the award from FinancesOnline include our simple and streamlined payment transaction management, easy to manage priority-based centralized support system, professional-looking self-replicating websites for each member, and straightforward inventory management, to name a few features. Simply put, FinancesOnline found Infinite MLM reliable and easy to operate. Infinite MLM Software also have added more important compensation plans with the software such as matrix plan, binary plan, unilevel plan, board plan, stair step plan, gift plan and much more.
Infinite MLM has also received the Rising Star award, thus asserting our platform's ever-increasing popularity in the industry. Client perception has also been positive overall, as we currently hold an 88 percent user satisfaction rating on FinancesOnline. With SMS integration to keep all your agents up to date with all business operations, strong backup system to safeguard all your files, and other cutting-edge functionalities to make your life easier, you can never go wrong with Infinite MLM. These are also reasons for recommending our solution in the platform's popular marketing software guide. Infinite MLM Software is crafted with most modern techniques including PHP, CMS, Apache, jQuery and MySQL. MLM Software has become priority element for each network marketing business. Hence choose the best MLM Software for business success. Also, checkout Review of Infinite MLM Software.
Make sure to check FinancesOnline's review and share your thoughts on Infinite MLM.