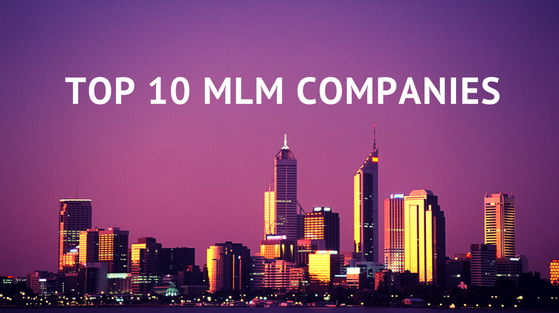 Multi-level marketing or direct selling business approach are always a dynamic source income for many. But many peoples aren't aware which MLM company is best on the market or which has the best growth rate and other facts that are relevant for MLM associates. And, it's hard to found out which are trustworthy among thousands. So we sorted out the list of Top 10 MLM companies in the world by revenue and growth.
1.Amway
Amway (American Way) is a  worldwide direct-selling organization based in United states that offer a wide array of product, mainly in the health, cosmetics, and home care market, directly to customers and separate entrepreneurs. Amway was established in 1959 by Jay Van Andel and Rich DeVos. Headquartered in Ada, Michigan, the organization and sister companies under the moniker Alticor generated USD$9.5 billion in revenue last year – the 7th successive season of growth for the organization
Type: Private
Industry: Household & Personal products
Chairman: Steve Van Andel
President: Doug DeVos
Revenue: US$9.5 Billion
Employees: 21,000
Website: amway .com
2.Avon
Avon Products, Inc. known simply as Avon is a publicly traded American worldwide producer and supplier of cosmetics, household, and personal care. The company offers products through associates in over 140 nations across the globe. In 2013, Avon crossed the annual sales of $10.0 billion dollars globally. Avon is the fifth-largest Cosmetic/beauty organization and second biggest network marketing business on the globe, with 6.4 thousand associates. Avon reported a revenue of  US$6.15 billion in last year.
Type: Public
Industry: Beauty, Household, Personal care
Chairman: Douglas R. Conant
CEO: Sherilyn S. Mccoy
Revenue: USD 6.15B
Operating income: USD 472.7M
Employees: 36,700
Website: avoncompany. com
3.Herbalife
Herbalife is a multi-level marketing organization that sells nutrition, weight reduction, and skin-care products. The organization was established in 1980, and it employs around 5,000 people worldwide. Herbalife reported net revenue of US$3.45 billion dollars in 2011 with a retail store revenue turnover of US$5.1 billion dollars with an increase of US$1.1 billion dollars retail store revenue on 2010. Though it is incorporated in the Cayman Islands, its corporate headquarters are in Los Angeles, California, United States. Last year Herbalife managed to close a reported revenue of US$4.47 billion.
Type: Public
Industry: Food & Soft Beverages
Chairman & CEO: Michael Johnson
Revenue: USD 4.47B
Operating income: USD 661.47M
Employees: 7800
Website: herbalife. com
4.Vorwerk
Vorwerk is a diversified business group headquartered in Wuppertal, Germany, operating worldwide. The company uses direct selling business approach for the various product line including household equipment (e.g. vacuum cleaners), fixed cooking areas and beauty products. Vorwerk was founded in 1883.The company is managed as a restricted collaboration of  Vorwerk family, Including sales associates which utilizes almost 500, 000 people in over 60 nations globally, (as of 2011). For the year 2015, the company published earnings of  US$4.0 billion.
Industry: Retail & Electronics
Type: Limited Liability
Managing Partners: Walter Muyres, Walter Muyres, Walter Muyres
Revenue: 4.0 USD
Employees: 12,000
Website:vorwerk. com
5.Infinitus
Infinitus is an Asian-based company serving worldwide. The company's primary goal is to avail Chinese herbal health products across the globe. Infinitus was founded in 1992 in mainland china as a part of Hong Kong conglomerate Lee Kum Kee Group. The main product line includes health products, Skin care, Personal and Home care. Last year, in a public statement company, published an annual revenue of US$3.88 billion.
Type: Private
Product: Healthcare, Skincare, Household, personal care
Revenue: $3.88B
Employees: 13,000
Website: infinitus. my
6.Mary Kay
Mary Kay, Inc. is a private multi-level marketing organization that sells beauty care products directly to customers. According to Direct Selling news, Mary Kay is the 6th largest direct selling organization in the world , with net revenue of USD 3.7 billion dollars. Mary Kay is headquartered in Addison, Florida, outside Facilities. The organization was established by Mary Kay Ash in 1963. Rich Rogers, Jane Kay's son, is the chair, and David Holl is chief executive officer.
Type: Private
Product: Cosmetic and Personal care
Executive chairman: Richard R. Rogers,
CEO: David Holl
Revenue: USD 3.7 B
Employees: 5000(As of 2011)
Website: marykay. com
7.Perfect
Perfect is Chinese based direct selling company operating worldwide. Perfect (China) Co., Ltd was incorporated in 1994 as a wing of foreign conglomerate, Perfect Resources (M) Sdn Bhd. Main products are Health foods, personal care, household, and beauty & skin care. The company reported a yearly earning of USD 3.58 billion last year.
Type: Private
Product: Health care & Household
Executive chairman: Dato' Koo Yuen Kim
Revenue: US$ 3.58 billion
Website: perfect100. com
8.Natura
Natura is the Brazilian leading manufacturer and marketer of beauty products, household, and personal care, health/skin care, solar filters, beauty products, fragrance and hair maintenance systems the organization that sells items through representatives in many countries across the world. The organization was established in 1969, by Luiz Seabra and became a public organization, listed on São Paulo Stock Exchange, in 2004. Last year Natura reported a revenue of US$ 2.41 B.
Type: Public
Product: Health care & Household
Executive chairman: Plínio Villares Musetti
CEO: Roberto Oliveira de Lima
Revenue: US$ 2.41 billion
Employees: 6,260
Website: natura. net
9.Tupperware
Tupperware Manufacturers Organization, formerly Tupperware Organization, is a worldwide network marketing organization.The organization was rated equivalent # 2 in Fortune's Most Admired Home equipment and furniture area. Tupperware has become so acquainted that the word is often used, uncapitalized, as a common term for any resealable plastic container. Headquartered in Orlando, Florida, Tupperware has 13,500 employees worldwide and reported a revenue earning of USD 2.28 billion in 2015.
Type: Public
Product: Storage, Kitchen products, and Beauty care
Chairman: Rick Going
Revenue: US$ 2.28 billions
Operating income: US$ 326.5 million
Employees: 13,500
Website: tupperwarebrands. com
10.Nuskin
Nu skin is American direct selling company headquartered in Provo, Utah which sells personal care and dietary supplements. Nu skin was established in 1984 by Blake Roney and Steve Lund. The company operates in 54 markets across the globe through a network of approximately 1.2 million distributors. Nu skin had a workforce of 5,000 and last year, the company reported an earning of US$ 2.25 B.
Type: Public
Product: Personal care & dietary
Chairman: Steve Lund
CEO: M. Truman Hunt
Revenue: US$ 2.25 B
Operating income: US$ 352.188 million
Employees: 5000 (as of 2014)
Website: nuskin. com
For the seamless operation of an MLM company, MLM software is an indispensable factor. We developed a comprehensive Software of enterprise level MLM companies with the most adorable and easy navigation user interface. You register and use the MLM Software Free Demo. To get the latest news and happening in MLM world, Subscribe to MLM Blog.