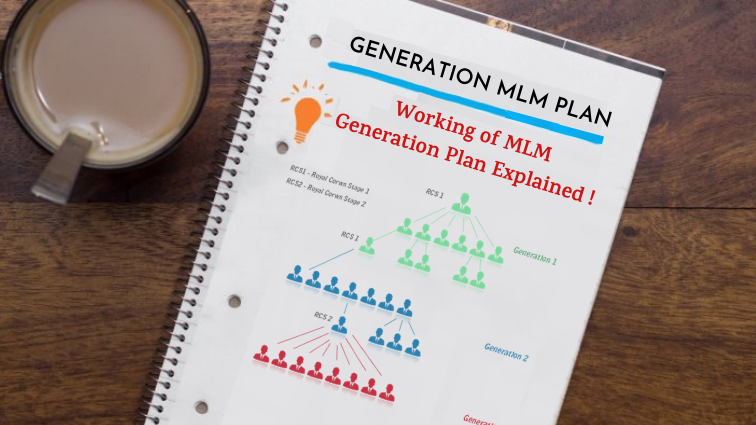 MLM Generation Plan may seem to be a little complex for the ones who are new to the network marketing business. But, that's not the case! It is one of the compensation plans that are easy to grasp or understand even for the commoners.
Well, we will be discussing the same in this blog so that it would be helpful for the upcoming direct selling entrepreneurs.
Nurture your Direct Selling Business with Reliable MLM Software Provider
What is Generation MLM Plan?
The Generation MLM Plan or MLM Generation Plan is an MLM Business plan based on profit sharing marketing Business. It is a type of MLM compensation plan followed by the different network marketing companies out there.
Hope you might be knowing about the working of Binary MLM Plan.
There you can place only two distributors under a particular Sponsor. But in the case of Generation MLM Plan, you can place infinite distributors under a particular sponsor. In case you don't know how the binary MLM plan works, you can refer the articles below.
Also, here the genealogy tree can grow up to infinite levels from both left to right and top to bottom! Some of the other names of this plan are Gap Commission Plan or Repurchase Plan.
Basic Structure of MLM Generation Plan
Generation MLM Plan is a great plan with a lot of income earning possibilities. It allows the members of the company to be paid for many levels deep. In this type of MLM plan, every new member recruited is placed at the first level of the sponsor as we have discussed above. A Generation is the people in your downline, including yourself, who might have either the same rank as yours or higher rank.
Every single member can also recruit an unlimited number of distributors under them. The major highlight of MLM generation Plan is that it grows horizontally and the flow is from left to right which is precisely the opposite to other compensation plans like Unilevel, Binary MLM Plan, Matrix MLM Plan, etc.
The distribution of profit, as well as the income earned by each distributor, is calculated based on levels. They are calculated based on two criteria: level wise income and differential income.Here, a distributor is paid commissions depending up on the generations. Most percentage of amount will be paid a commission for the first generation, and then lesser for the subsequent generations.
For example, if you are being paid 20% on your first generation, then it may be only 15 % for the second, 10 % for third, 8 % for your fourth generation and so on.

There are also a lot of benefits for MLM Generation Plan when compared to its counterparts, which will be discussed below.
Positive Aspects of MLM Generation Plan ( BENEFITS)
MLM Generation Plan is one of the most robust network marketing plans that we have in use today. Their benefits for both the management as well as the downline are immense.
For more benefits, read below:
All the distributors in the network will have the same earning benefits, if they are ready to work hard. Everyone from the sponsor to his downline members can reap the profits generated by the company!
This MLM plan follows a simple structure, and it is effortless to understand even for the entire newcomers.
This plan allows you to achieve massive success if you are working in a well organized manner and working hard.
Multiple Income Generating Options:
Apart from the commissions, you can also make additional benefits like Bonuses, Rewards, Loyalties, etc.
Since it follows the direct selling method, this plan allows you to reach out to the potential customers even without following any advertising strategies.
Summary
MLM Generation is a most widely used compensation plan by various network marketing companies across the world.It benefits both the distributors as well as their sponsors equally.
Do try out this plan if you are involved in the process of business expansion.Implementing the same with your MLM software is also a very important thing that you need to do. You can opt for a free Generation Plan MLM Software Demo before purchasing the MLM Software