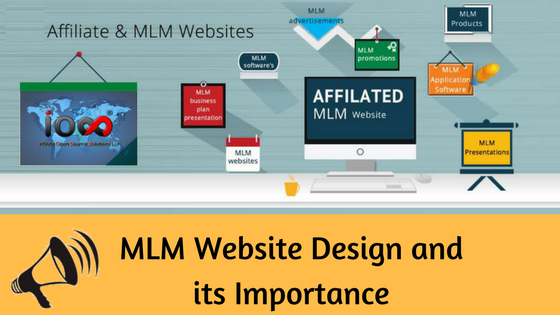 The importance of your MLM Website Design in your network marketing business is of top priority! How?
Well, we will see how it enhances your direct selling business here!
It's a very well known fact that your MLM website is the platform that enhances or boosts your online presence. An MLM website will not provide you the expected results if you just create a basic version of the same.
That's where the real importance of MLM Website Design comes into play!
In addition, it also requires some tricky marketing and SEO strategies to be followed, which will surely yield positive outcomes. Well, explaining those things is out of our scope right now.
Let us get back into the MLM website design. Keep reading folks.
Get MLM Website Design relevant to your site with MLM Software
Why Should You Focus on MLM Website Design?
The designing section of your MLM website is one that either upgrades your business or downgrades the same. It helps out to generate higher leads. How?
The website is the first line of an impression that is generated in the minds of the customers.
So owning an MLM website that has a highly attractive user interface results in higher conversion rate and thus leads to better business growth and income.
In addition, it a perfect MLM website is an asset to your business.
Do you know how? Read below.
How MLM Website Design Becomes an Asset to Business?
Investing in MLM Website Design may definitely cost you some bucks. But in addition, it will be helping your business in generating an outstanding profit in turn!
So in case if you are planning to redefine your network marketing business, make sure that you consult a leading MLM software development firm, who have some really talented website designers! Or in other words, the ones who know the real value of MLM website designing and some key points related to the same, which are mentioned below:
Navigation menu is what that makes the exploration between different pages of the website easier. It's a very important component that should be taken care while designing a website.
A well designed navigation bar allows the users of the website to jump between the pages. Also, it makes the customers to come back whenever they need a product or service.
Visual and Graphic Elements
The visual and graphic elements should be eye catching and attractive. It even includes the minor elements like fonts or other typographic elements used. The aspects you have chosen for the website should be the ones that clearly conveys the message that you are trying to forward to your targeted audience. It has been seen that the users will remember when the information given are precise or something that they can relate with.
The brand logo of your business is what that sets you apart from your contenders. So including your brand logo with your MLM website is very much necessary. Such elements are what creates a recognition for your business in the minds of the customers.
The various visual and graphical elements used on other mediums should match up with the ones in your MLM website. The customers may get confused with your business if the brand uniformity is not there among multiple platforms.
The webpages of your MLM website should be designed in a way such that it is appealing to the users and make them engaged all the time. So they will be automatically coming back to your website regularly. Hence the website designing factor is one that should be taken care of by every MLM business owner!
Organization of the Information and SEO
The information displayed on the website pages should follow an organized pattern. It has been found out that the users read the information from left to right, top to bottom.
So while designing a website page it should be kept in mind and the designers should focus on including the most important information out there. It will also help to convey our message to the ones who can be your potential customers!
Also, it helps to improve your search engine rankings in Google, Yahoo, Bing etc. This can be achieved by adding MLM related keywords in your HTML text.
Final Thoughts
A well developed direct selling website is now a very important aspect that allows your network marketing business to grow to another level. An MLM website makes your business accessible as well as reliable for your customers.
With the help of an attractive and user-friendly website design, you can create wonders in your MLM business as discussed in detail above. One of them includes, it builds trust for your brand among the customers. In effect, you can run a highly profitable MLM business!
If you have any suggestions or queries please do comment below.