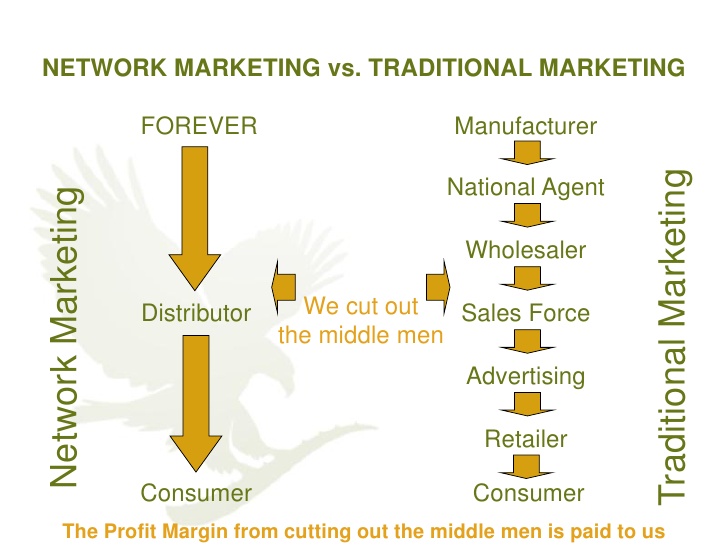 Multi Level Marketing has built supremacy over the traditional marketing by its quick and reliable specialties.
Earlier days, people were wandering from shop to shop to buy goods. In that era of traditional marketing, sometimes consumers had to waste their precious time and even after all efforts they were disappointed in satisfaction.
Multi Level Marketing also known as Network Marketing which is becoming a way of life in the business community. Almost every major company now offers affiliate referral commission programs.
Multi Level Marketing permits independent distributors not only sell the product or service, but also recruit other independent distributors and draw a commission from the sells of those recruiters. Now let us discuss on Multi Level Marketing vs Traditional Marketing.
How the MLM different from the Traditional Marketing?
In that wholesale or retail store, the owner "hire" employees and pay them an obligated salary to sell their goods. It doesn't matter how much goods or products that employee sales, they get that salary. Because if you hire "employees", you will be responsible for paying taxes, insurance, and other incentives and these all expenses are calculated into the total selling price of that box of cereal.
While in MLM, all the people are wholesale business owners. They all work on commissions. They buy directly from the manufacturers. They get paid for production only. They invest their time and energy to train others and earn royalties.
The Network Marketing business works something like this; Initial people can hire or sponsor a downline of distributors that not only sell the products but also use them. That also makes your customers as well. Using superior quality products with benefits, the distributor gets the opportunity of building a lifetime client. Those customers create residual income. The residual income is the money you earn from your initial sales. Again the sales and reorders done by those you hired and the ones they hire, etc. This process continues to produce earnings for you long after your day-to-day awareness to the sale.
Now in this technology world, companies prefer to use MLM Software to make their job even more simple and convenient. It provides different MLM plans to grow their Network Marketing business.
Benefits of Multi Level Marketing
Companies utilize Network Marketing to tell their story to the world.

Personal growth and development.

Time freedom to be there for the family.

Work from anywhere in the world.

Receive all the benefits of traditional business ownership without the typical risks.
Try our Free MLM Software Demo