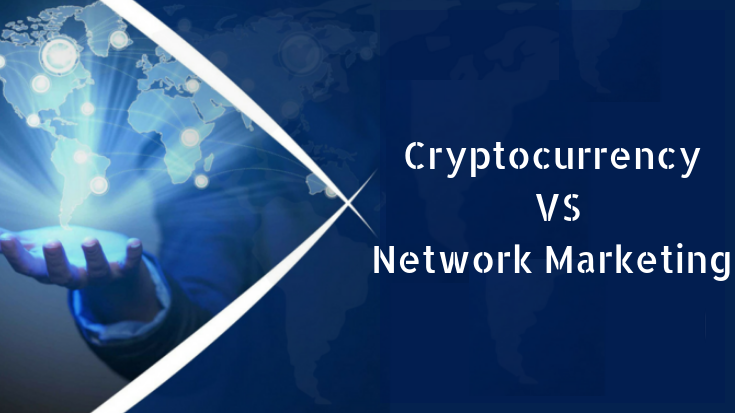 How does the entities that are poles apart meet? Well, let us go through the Cryptocurrency vs Network Marketing.
One buys Cryptocurrency using fiat currency. The token investor sells the cryptocoin to a customer and earns a commission from the company for doing so. The seller also gains a commission when he introduces another individual to the cryptocoin and the latter purchases and sells tokens. This process will continue in a loop and new individuals enter the network.
The company that is promoting the cryptocurrency offers a fixed return on investment to its investors and sellers for investing in its tokens. Infinite MLM Software helps to make your cryptocurrency popular by promoting your currency.
Cryptocurrency vs Network Marketing – Testing the waters
Well, I wouldn't say that the union is completely trustworthy. There are a few potential risks involved as well. Firstly, there is no regulating body nor any centralisation of the currency.
Having said that, selling cryptocurrency through network marketing may actually prove to be a boon for the former since the financial institutions and force them to treat crypto tokens as close to fiat currency ( or may be as equal to fiat currency!) that one can exchange for cash. This will allow for more regulation but will detract from its more attractive features. This is not a certainty but is a possibility with the top 2-3 cryptocurrencies in years to come.
Though this may seem rosy, the scenario is not a bed of roses. There are possibilities that the MLM company buys coins in the pretext of on behalf of an investor and fails to follow it through. This would result in devaluing the cryptocurrency and bring in a negative image to the cryptocurrency.
What if the MLM company offers a fixed monthly or yearly return on cryptocurrency investment but fails to fulfill the commitment? We cannot rule out this possibility since there are high chances that this will happen. If the MLM company never bought the tokens to resell, but used the new investors' cash to pay the previous investors', then a point might come in the future when new members are scarce and this would lead to the company not being able to pay the currency investors as promised.
Another fact is that cryptocurrency is a highly volatile market and there are chances that the value of the token can reduce drastically and investors can incur great losses.
The government can ban the particular cryptocurrency or proclaim its use as illegal, leading to unrecoverable loss to the investors. Certain MLM companies also commit to more returns than possible and would be scams to lure in naive investors.
Well, that whole lot is a tough one to digest, isn't it?
It is true, there are a variety of reasons why selling cryptocurrency through network marketing is not a good idea and arguments in favour is very limited indeed.
The general public know very little about network marketing and cryptocurrencies. Majority of the scams remain unexposed and the investors who lost money don't really come forward to speak about their misfortune. Selling cryptocurrencies through network marketing seems like a perfect trap for nascent investors that can cost them trillions of dollars worldwide.
Quite a bit confused, aren't we?
Fret not! We shall help you out.
Go through the checklist given below before investing in any cryptocurrencies that use MLM to sell the tokens.
1. Is the cryptocurrency actually mined by the company and shown to the potential investors in their e-wallets?
2. Does the blockchain exists with the company?
3. If the company owns the blockchain, is it public? Public blockchains are more transparent.
4. Is the returns on investment massive and too good to believe? Of so, it is most likely to be a scam.
5. Is the cryptocurrency being sold widely accepted across various trading platforms? If yes, you got your bases covered on that front.
The Case Study
Though the world stands divided in terms of whether MLM / Network Marketing would go hand in hand or not, there has been a few coins that has been sold that way. Let us see how they have performed in the market.
Global Coin Reserve [GCR] commenced its operations in the year 2014 and is a brand new cryptocurrency which is considered as the world's first Bitcoin based home business opportunity.
1. ImperialCoin [IPC]
The coin, created in 2013, provides a safe and reliable transaction alternative for MLM companies that cannot afford expensive payment system options.
2. Global Coin Reserve
Global Coin Reserve gives anyone a chance to build a great financial future through mining the coins. The members get exclusive access to GCR currency and follows a Matrix MLM compensation plan with referral bonus system. Memberships range from $29.95 to $999.95 per month.
3. Latium
Latium [LAT] is a popular alliance between network marketing and a cryptocurrency. You can recieve Latium for free by joining and more through referrals. The only way to acquire Latium is to sign up and refer people. Upon registering, a person will get upto 5 Latium. It is simple to use and one can trade it across multiple exchanges.
Conclusion
As much as the success stories tempt you to hop onto the bandwagon and invest in a cryptocurrency that sells through MLM, there are dozens of failures that costed the investors a fortune. Research well and tick off the questions on the checklist before you invest. Promote your cryptocurrency around the globe with our cryptocurrency MLM Software.