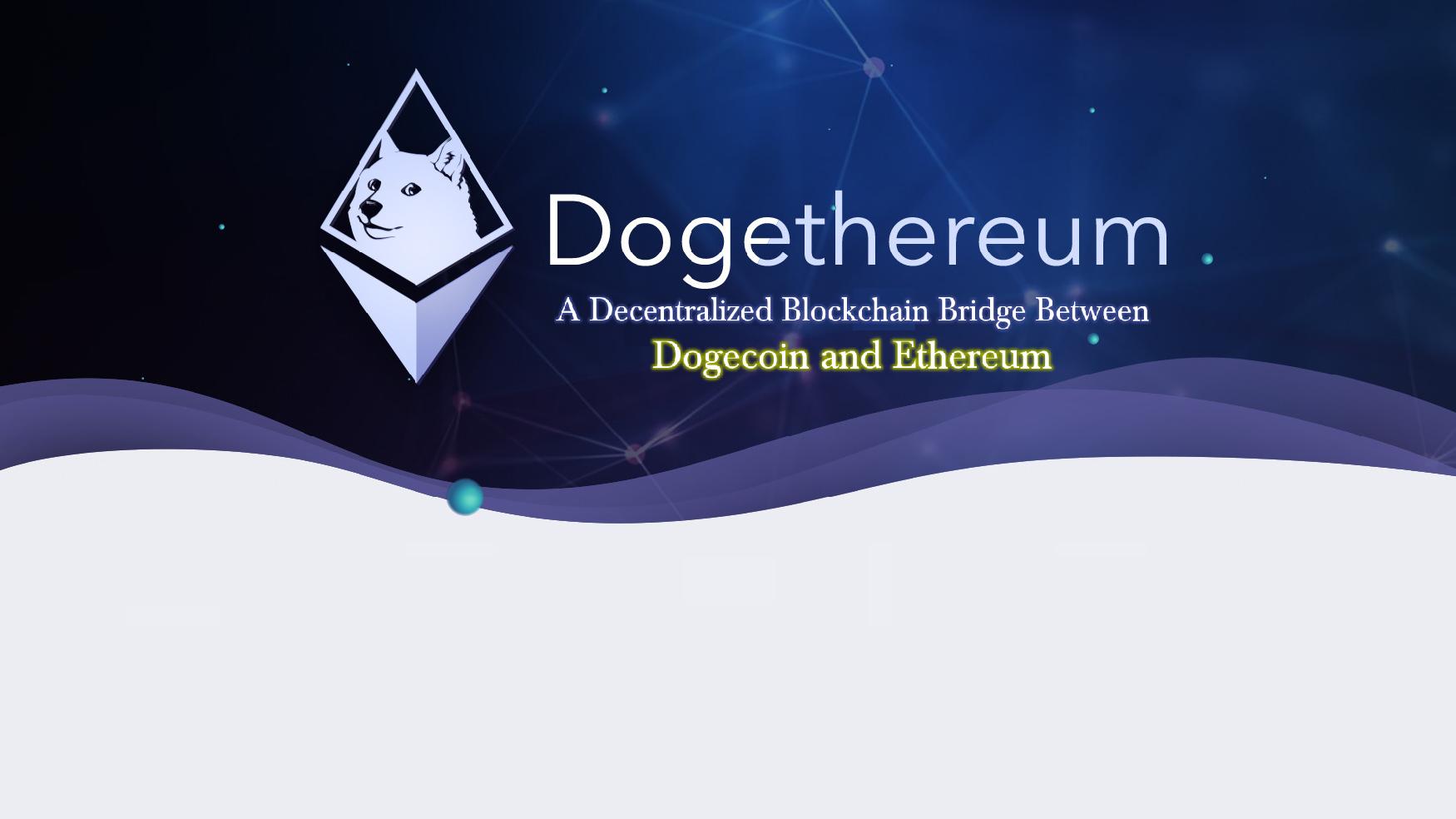 The spring of 2018 witnessed the most awaited crossover between Dogecoin and Ethereum, Dogetherum was thus born.
Dogethereum is a peer to peer internet currency that runs smart contracts and enables the exchange of dogecoins for an equivalent worth of ethereum tokens and vice versa. It is a smart contract that facilitates the transfer of Dogecoins to and from the Ethereum chain.
It is an open source, global payment network that utilises blockchain without central authorities.
A crossover that is faster and smarter than ever, Dogethereum is based on ethereum engine and began with Dogechain snapshot.  Every Dogecoin holder already has Dogethereum token.
Anyone is free to be a part of the Dogethereum network and can start mining in the network.
The current reward offered is three new Dogethereums per block mined. Dogethereum repository also have the software for solo mining or pool expansion.

When Dogecoin was introduced in 2013, it was considered a joke coin with an equally funny and adorable meme themed mascot, the Shiba Inu dog. However, over the years, it has managed to become a fairly reliable and trustworthy cryptocurrency with a position among the top 40 altcoins. The low transaction fees and fairly stable price has been two major factors that has lead to the stability of Dogecoin.
On the flip side, Dogecoin is still primitive and lacks versatility and is not extensible. The connection with ethereum can change that by bringing in smart contracts to Dogecoins.
The stability of dogecoins benefits Ethereum greatly, making it ideal for transactions.
For more about; Ethereum Cryptocurrency – Alike Bitcoin?
What is the hype around 'Dogethereum' ?
Needless to say, Dogethereum will impart a sense of stability to Ethereum and Dogecoin.  Due to its increased scope of operations post September 5th (when the demo version of Dogethereum is launched), the coins garnered great benefits. Ethereum is flexible enough to accommodate both tokens and bridge tokens coded as smart contracts for  specific purposes.
Is Dogethereum practically viable?
Crypto teams are now on an extremely fast race to gain a competitive edge so that they can withstand the volatile market in case of a price correction in future. Therefore, it is essential that there is a sense of practicality in the developed protocols  like Dogethereum.
When it came to the question of maintaining the decentralised aspect of digital coins, there were many apprehensions. Since the digital currencies don't have a physical presence, smart contracts on platforms like Ethereum function as intermediaries. These smart contract will function as a base for issuing and acquiring DGD tokens from interested people.
There is a provision to lock the DGD tokens and unlock them later to revive the remaining coins. A third party operator will be in charge of validating the smart contract requests to ensure the smooth liquidity flow.
Future of Dogethereum
Post the launch of the demo of Dogethereum on 5th September , speculations are still rife on whether the new development is rewarding or not. We can expect more advancement of the crypto space receives the demo on a positive note. 
Do you want to create your own cryptocurrency like Dogecoin and Ethereum, Cryptosoftwares provides the best cryptocurrency development services.