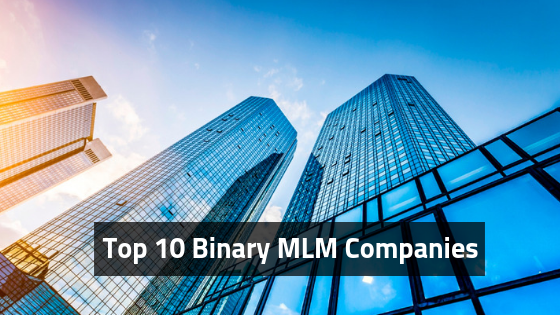 Are you in search of the top 10 binary MLM companies?
Well I hope the little information that I have gathered from various sources might definitely help you in finding the same!
The yardstick for ranking can be diverse and not exact.
And hence one of the main factor that is taken into consideration for the global ranking is the global revenue the MLM firms make, for obvious reasons.
And the other important factor that is taken into the context  is the number of years that the company has been into the business.
It definitely plays a major role because it's the experience in MLM industry that defines whether the company sinks or swims across smoothly.
Before checking out the list, lets see what is this Binary MLM Compensation plan?
So that it would give you guys a crystal clear idea regarding the information given in this blog.
To know more about Binary MLM Plan and how does the binary MLM Plan works? Read on Binary MLM Compensation Plan
Get the calculation of Binary Plan profit and expenditure using Binary MLM Plan Calculator
Now lets see who are the leading 10 Binary MLM companies below.
The List of Top 10 Binary MLM Companies
#1. Amway
A brand that has been synonymous with Multi Level Marketing, Amway has been one of the top MLM companies for years. Generating a revenue of $8.80 billion, the American MLM company has managed to beat its counterparts by leaps and bounds to retain its top spot since its inception. And same is the case this year too.
Industry: FMCG (Fast Moving Consumer Goods)
Chairman: Steve Van Andel
President: Doug DeVos
Revenue: $8.80 billion USD
Website: www.amway.com
#2. Avon
Avon is a top MLM company dealing with the selling of cosmetics, household, and personal care products. The company generated a revenue of about $5.9 billion last year and operates in more than 100 countries.

Industry: Beauty, Household, Personal care
Chairman: Jack Stahl
CEO: Jan Zijderveld
Revenue: $5.9 billion
Website: www.avoncompany.com
#3. Herbalife
Herbalife which was founded in the year 1980 with its primary aim to change the nutritional habits of the world. According to its website, Herbalife operates in around 95 countries and deals with the developing, marketing and selling of nutritional supplements, weight management, sports nutrition and personal care products. It generated about a net sales of $4.5 billion in 2017, and thus is placed in the third spot in the top 10 binary MLM companies of 2018.
Industry: Food & Soft Beverages
Chairman: Michael Johnson/span>
CEO: Richard P. Goudis
Revenue: $4.5 billion (2017)
Website: www.herbalife.com
#4. Tupperware
Tupperware began its operations in the year 1948 in Massachusetts.Tupperware is a home products line that includes preparation, storage, and serving products for the kitchen and home. This company managed to rope in a revenue of $2.26 billion last year to remain in the list of Top Binary MLM companies of 2018.

Industry: Kitchen and Household Products
CEO: Patricia A. Stitzel
Chairman: E.V Rick Goings

Revenue: $2.26 Billion

Website: www.tupperware.com
#5. Oriflame Holding AG
Oriflame is a Swedish cosmetics company founded in the year 1967. The company sells personal care, accessories and nutritional products through MLM model as well as online sales. This Swedish stalwart in MLM operates in more than 60 countries with sales exceeding € 1.7 billion.
Industry: Personal care, Accessories and Nutritional products
President & CEO: Magnus Brännström

Revenue: € 1.7 billion

Website: www.oriflame.com

#6. NuSkin
NuSkin is an American MLM company that sells personal care and dietary supplements under Pharmanex brand. NuSkin was founded in the year 1984, and operates in about 54 countries. The estimated revenue of the company is about 2.25 billion dollars.
Industry: Personal care and Dietary Supplements
CEO: Truman Hunt

Revenue: $2.25 billion

Website: www.nuskin.com

#7. USANA
Usana is a Utah based MLM company that produces and sells nutritional products, dietary supplements and skin care products.
It was founded in the year 1992, and the company operates in more than 20 countries globally, generating an income of $790 million.

Industry: Nutritional Products, Dietary Supplements, Skin care products

Chairman: Dr. Myron Wentz

CEO: Kevin Guest

Website: www.usana.com
#8. LegalShield
LegalShield sells legal service products through MLM, particularly in the countries USA and Canada.
Industry: Legal Service Products

CEO: Jeff Bell

Revenue: $400 million

Website: www.legalshield.com
#9. 4 Life
4 Life is a Utah-based MLM company that sells supplements which supports immune system health, body transformation, and general wellness. 4 Life is one of the few companies that has managed to break into the list of top MLM companies in fairly less amount of time. It operates in about 22 countries worldwide and generates a net income of 250 million Dollars.
Industry: Supplement Products

CEO: Daniel Lee

Chairman: David Lisonbee

Revenue : $250 million

Website: www.4life.com

#10. Melaleuca
Melaleuca was founded in the year 1985 and sells around 400 products by means of MLM. Melaleuca operates in and around 19 countries, according to their website. It has managed to surpass $2 billion sales in 2017, and thus making it one of the top 10 binary MLM companies around the globe.

Industry: Health, Home cleaning, pharmaceutical and personal care products
CEO: Frank L. VanderSloot
Revenue : $ 2 Billion (2017)
Website: www.melaleuca.com/
One of the common thing among the list of top 10 Binary MLM companies is that  they all started from utter scratch and made it big through MLM!
Planning to boost your MLM business? Digitize your MLM business with our super efficient MLM software.
Visit here for a demo of our software: MLM Software Demo