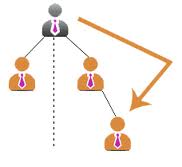 MLM Software will be taken world on their hand. Today world will walk along with new face of Multi Level Marketing or MLM. For this first we will want good back bone. Mainly that is software .We will have present new face of that backbone that is Infinite MLM software. It will help your work hand friendly and much easier. It will include so many user-friendly features. IOSS MLM save your time earning become faster.
Today MLM goes through some plan. From this plan SPILL OVER BINARY PLAN is newest concept. It will be developing under single person, then newly join left and right business will combine together, left or right can spell over or over flowing. That is for each side, we have a person in the first stage. When the positions becomes complete we can continue to recruit new downline members. From this way we can growth up our business. This plan related with BINARY MATRIX. It will be started with binary, steps up to middle style will change and it become faster and smoothly. In this earning time become faster and spending time shorter. MLM plan wider day by day. New launching will not success in market but SPILL OVER BINARY PLAN can pick market fast and respond map going pick in each minute. So spill over binary plan software will introduced by Infinite MLM Software  It guarantee safe and cost-effectiveness. Spill over binary plan focused starting person and present business achivers. It can not lead your business in miss path.
Spill binary plan will be earn more and more business achiver in market. Like this user business also come front of the market. Infinite MLM give good guidance to this plan. Infinite MLM software will present free demo for this software.