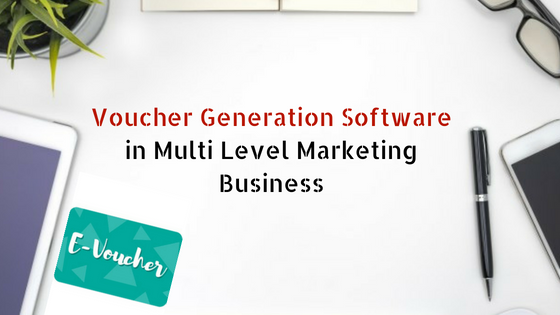 E-vouchers are an integral part of MLM software these days. Anyone reading this would have used a voucher sometime in the past! Yes, vouchers are so common these days that most of the MLM companies are using voucher generator software extensively.
So, what is a voucher? It is a method of making an online payment or receive membership. These are also called prepaid coupons, scratch cards or prepaid vouchers.
The MLM software has an e-voucher generation tool. It generates a highly secure code used for online payments. Activities like registration and online payments are done by these codes. These codes are called e-Vouchers. These are designed to grant security in transactions and offer flexibility to both members and the admin while doing online transactions.
Most of the MLM software is integrated with an e-Voucher generator. The admin can generate e-voucher easily with it. Generally, this section of MLM Software is secured with a password, again for security. The user can purchase extra vouchers if his online account has sufficient balance.
Vouchers are being used widely these days, a few being
Recharging mobile phones.
Booking travel and movie tickets.
Buying lotteries.
Paying bills.
Making retail store purchases with e-money.
Most of the MLM companies these days are multinational. It becomes physically impossible to collect payments from members physically. This is where e-vouchers have become been a boon.
Any amount of vouchers can be created and dispensed by the company and it is the most secure way of accepting membership/ sponsorship/product payment.What are the features that you should consider while looking for a voucher generation software?
Voucher Generation Software Features
Full cycle management of e-voucher
Easy to use interface
Unique coding of vouchers for security. Codes should be unable to guess or brute force.
Voucher tracking facilities to reduce the occurrence of theft and loss of voucher.
Distribution and management of vouchers through franchise/members.
Facility to block and unblock vouchers in view of theft or loss.
Data migration to Excel or Word.
Provision to send e-voucher through fax/ email.
Generation of MIS reports.
Auto backup
Provision for online request of vouchers.
Desktop application for voucher printing.
Facility for Management from the back end. The admin should be able to customize commission rates, discounts and other elements in vouchers.
Provision for Ordering vouchers using Visa/ Mastercard.
More about The Use of E-pin in MLM Software
Now, let us see few of the advantages of the vouchers and the voucher generator tool.
Advantages of Voucher Generator Tool
Geographical constraints make it difficult for the companies to collect payments from their affiliates. E-vouchers have been readily accepted by all companies to overcome this.
They offer great flexibility for both clients and the companies for online transactions.
They provide highly secure transactions.
A highly efficient reporting system is in place in case of the loss or theft of the voucher.
Easy to use
Low cost
E-voucher generator is an ineluctable feature in any MLM software. Infinite MLM has integrated voucher generator to aid both the client as well as admin in voucher management.
We invite you to take a free MLM Software demo today and experience the convenience of vouchers over conventional payment methods.