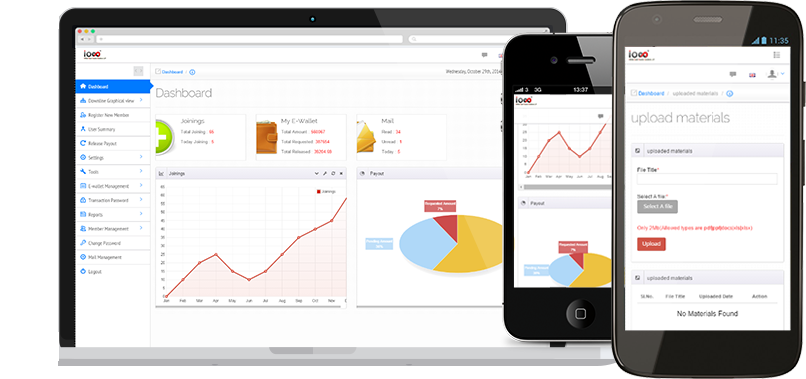 Today, we create a New History in MLM Software field, the latest update from our Infinite MLM Software after the launch of version 6.0 October 2014. After a few months since our last constant edition, We are extremely pleased to declare the release of Infinite MLM software 6.0. We have targeted to flourish our software functions in this edition by presenting some awesome functions that no other MLM Software suppliers can give you. Along with a powerful design motor and highly effective structure Infinite MLM Software 6.0 will definitely be the best driver for your Business.In this version mainly included on Payment Options and New MLM Party Plan and other additions.
In this version Infinite MLM Software mainly focused on improving payment methods. Options like E-PDQ-Barclay and Authrize.net  are added along with existing  paypal, E-Pin, E-Wallet and credit card payments. Added Party Plan along with demo in site. More joining methods including  Free join/Active/Inactive options introduced . Ranking system established for tracking the down-line . Slight modifications like Captcha in Login page, SMS Settings, Search Employees and username change also introduced.
The New Features of Infinite MLM Software 6.0 are
#1.Party Plan :
MLM Party Plan is basically used for marketing and promoting different products with the help of social events which includes party at home. During this party time the different items or products will be placed on the show or auctioned. Party Plan company can also be considered as direct selling. In this system basically, A person from the sales department is conducting this party, so that he can show the products of the company and gains some popularity and income for the firm. By doing these, they will be able to sell their products and also can offer the visitors to conduct the parties. Both the multi level marketing and single level marketing are using this technique. The main reason behind conducting these parties is just to make the women aware about different products related to kitchen, cosmetics etc. as they are considered as the shopaholic. Several times the parties are conducted in a combine form, this is done because from here itself one can select different products or items at a wide variety.
Setup Party
a) My Party Portal
b) Host Management
c) Guest Management
#2.Different Payment Options :
Different types of payment options are available for making payments for online registration, purchase and for other purposes.
Payment Gateway-Payment Gateway is an E-Commerce application service provider service that authorizes credit card payments for E-Businesses, online retailers, bricks and clicks, or traditional brick and mortar. It is the equivalent of a physical point of sales terminal located in most retail outlets. It is the fast and safe way to send the money, make an online payment, receive money or set up a merchant account.We are Integrated different types of Payment Gateway as default.
PayPal
Credit Card
Authorize.net
EPDQ
Free join/Active/Inactive – User can also register using a 'free join' option which does not require payment to be made at the time of registration.
#3.Rank :
Rank is a position awarded to a user when he/she recruits a particular number of referrals as defined by the admin in the 'Rank Settings' option under the 'Tools' menu. It may be accompanied by a bonus which can also be set on the admin side.
#4.Captcha in Login Page :
It is a set of challenge-response test given in the login page used to determine whether the user who is trying to login is human or not. The test is to type the distorted letters or digits given in an image. If the given set is not readable, there is an option to change the text. Admin can enable or disable the captcha by turning on or off the 'captcha status' given in the "Set Module Status" under the "Tools" menu.
#5.SMS Settings :
Admin can set the sender ID, Username and Password for sending SMS in the 'SMS Settings
under the Tools menu.
#6.Search Employee :
In the admin side, there will be a "Search Employee" option under Employee Management which gives the employee details on entering the username of a registered employee. There is also a "View all Employee" button in the same page which gives the details of all employees registered with the website.
#7.Change username :
Change username is an option under the Member Management menu for changing the username of a registered user. For this, current username and new username are to be entered. The software will check whether the new username already exists and changes the username of the user if new username does not exist.
Now You can check out our new software in this movement. Click Here to get registered for the New Version of Infinite MLM Software Version 6.0 demo!