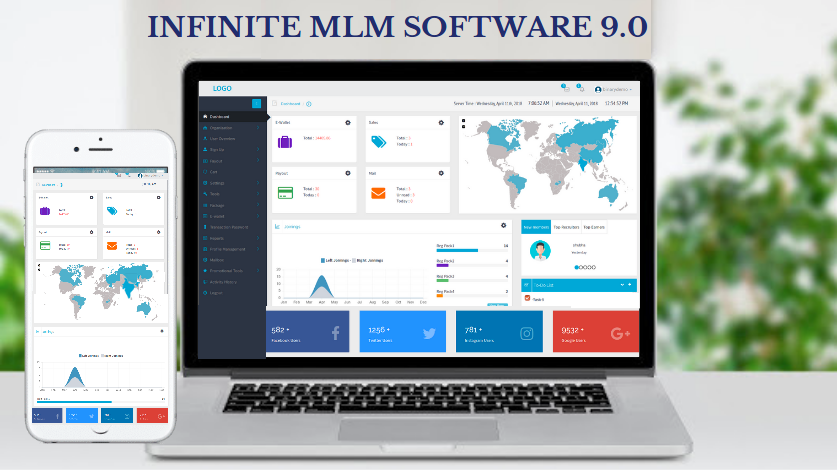 We are excited and pleased to announce new features and enhancements to the Infinite MLM Software version 9.0. This is the latest release and is available with different features.
A Little Bit of History !!
Over the last 9 years, we've taken everything we've learned from our experience and from users request and requirements and put it all together in a best MLM package. We build perfect MLM Software for the successful business growth. And we have completely reworked to provide the best MLM software.
As we look back at Infinite MLM Software Version 8.0, our expert team focussed mainly on stair-step plan functionalities, package validity, opencart version upgrade and much more.
In the meantime, we want to make sure our network marketing software is extremely extra advanced to keep our customers productive and happy.
Here are the highlights of Version 9.0:
Technologies we have used;
PHP version 7

codeIgniter version 3.1.2

smarty template version 3.1.4

opencart version 2.3.0.2.
Our redesigned dashboard options have been included with vector graph, sticky notes, joining details (for a month, year and day) and social media followers display. Also with new appearance and user friendly options.
We provide three additional attractive theme along with the default theme.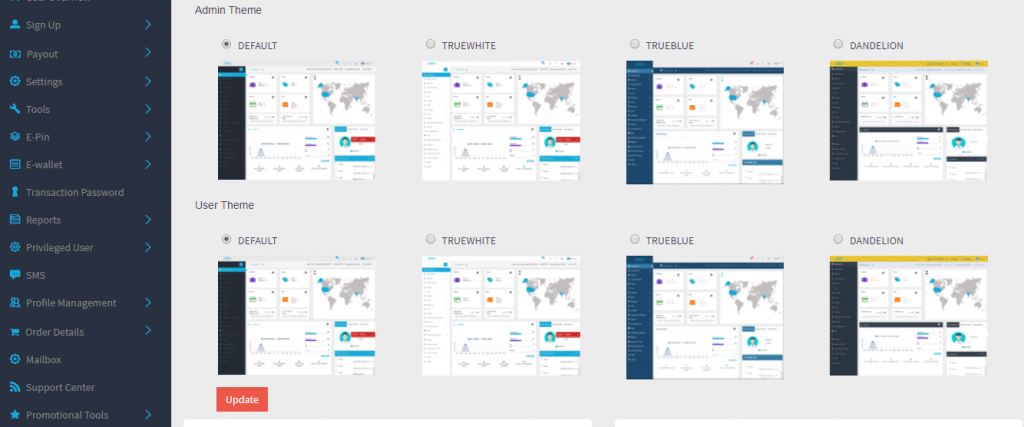 Below is the Dashboard view after updating theme;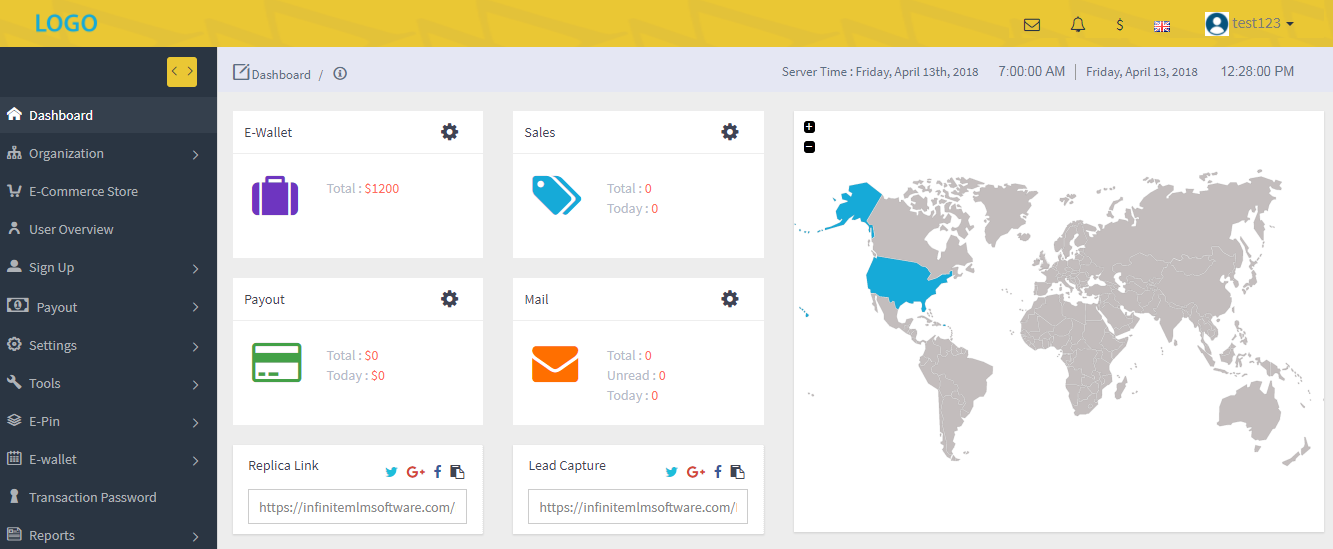 Our software always update with new period revisions, and have MLM version history for all additional features. We follow latest trends and features.
Additional features ;
1. Dashboard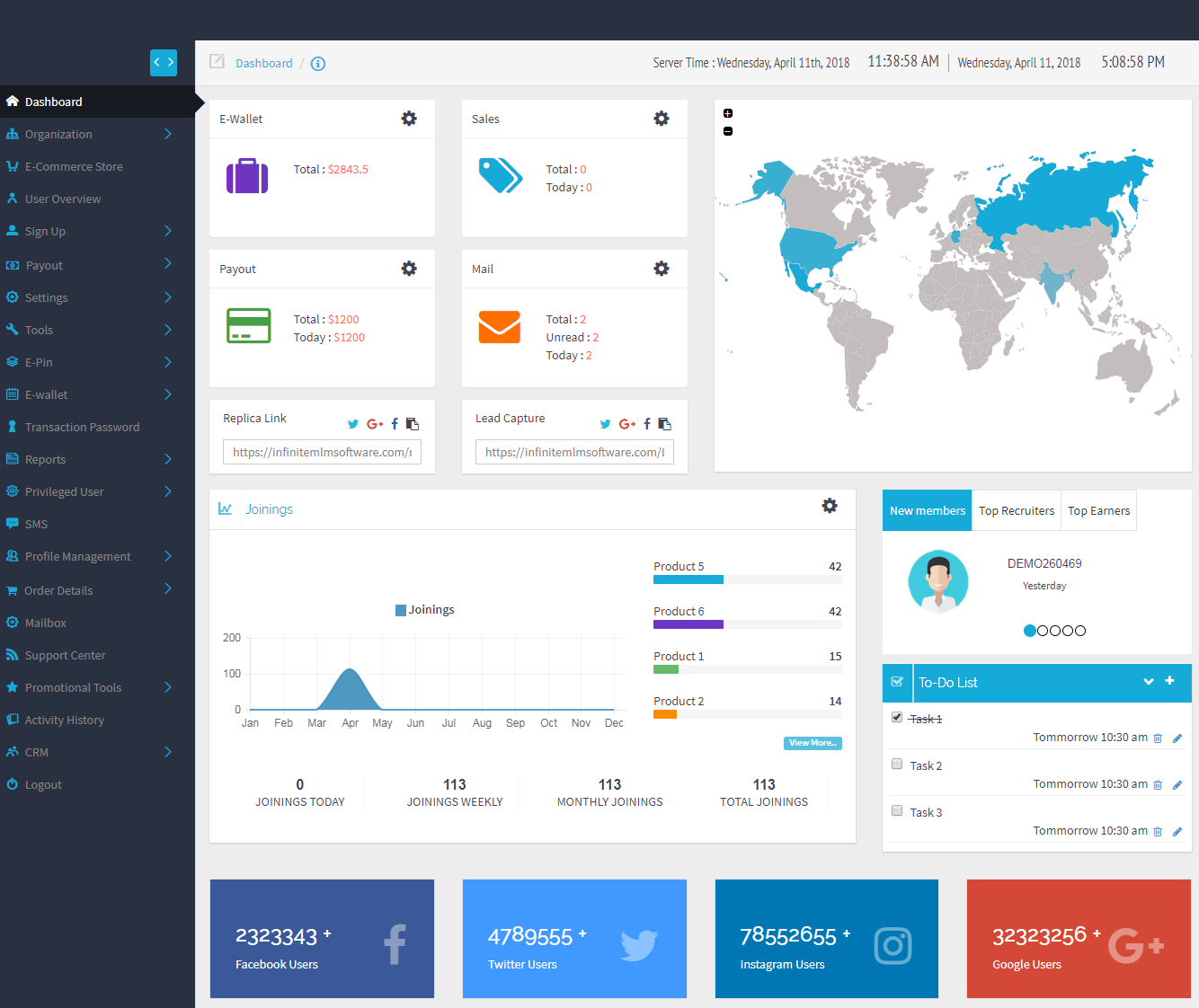 a) Dashboard details change
Dashboard details can be changeable (4 boxes at top and joining graph)
b) Joining Graph
Left and right members join display in different colors for binary

Change graph details as per this year,month,day details on change

Membership/package joining count display as progress bar
c) Vector graph
As per the joinings of region
d) Replication and LCP link share option
Copy option and link share option for facebook, google plus, twitter
e) To do list
Option to add task, delete and update
f) Social media followers display and its configuration
2. Registration

a) Pending registration option
Temporary registration and confirmation by admin

It can be configure from admin side
b) Bank information section remove or configurable in registration form.
c) New member placement configuration
Configuration may be left,right,no preference for binary
d) Bank transfer payment method
Receipt upload option or can be pending until bank confirmation
3. Member registration/sign up settings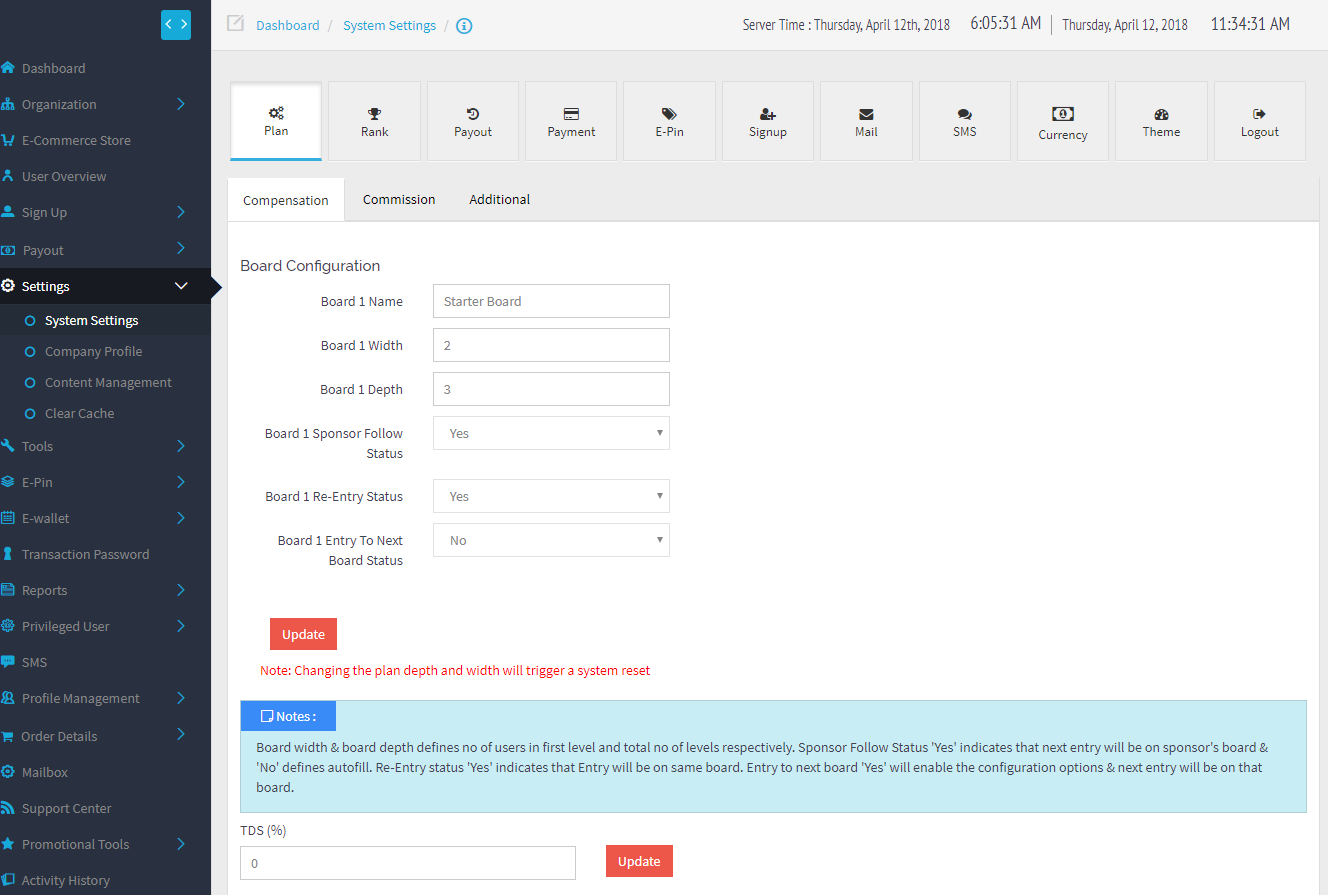 Option to ON/OFF following settings
a) Need to give referral amount
b) Registration allowed
c) Sponsor required – if set as no, default should be admin
d) Email notification mail send
e) Option to fix binary leg – change it as left leg,right leg,no priority
f) Age limit settings – now 18 years old is default
4. Package wise calculation
a) Package wise calculation for following(both MLM and opencart side)
Referral commission

Pair price in binary
5. Package upgradation
Membership package upgradation
6. Payout Release configuration
a) Option to mark as paid after bank transfer
That is, there are two stages – processing(after payout released) and paid (after done bank transaction)
b) Display payout release by admin and user request in same page, also it's status can be change from admin side.
7. Withdrawal option
a) Added payment gateway for withdrawal
paypal

block chain

block trail

bitgo
8. Option to cancel user request for withdrawal before processing
9. Commission changes
a) Compression for commission – with ON/OFF configuration
10. Rank Management
a) Rank Achieving history
b) Next rank achieving details
11. Bitcoin integration
Integrated remaining methods such as block chain, bitgo
12. Leg Select option
Leg selection option from user side in binary plan
In the user side of binary plan, option to select their default leg.(available if no leg settings from admin side)

Options may be – left leg, right leg, weak leg, no priority
13. Logout time set
Inactivity logout time settings
Option to set inactivity logout time like 30 sec, 60 sec, 120 sec
14. Configurable Replication page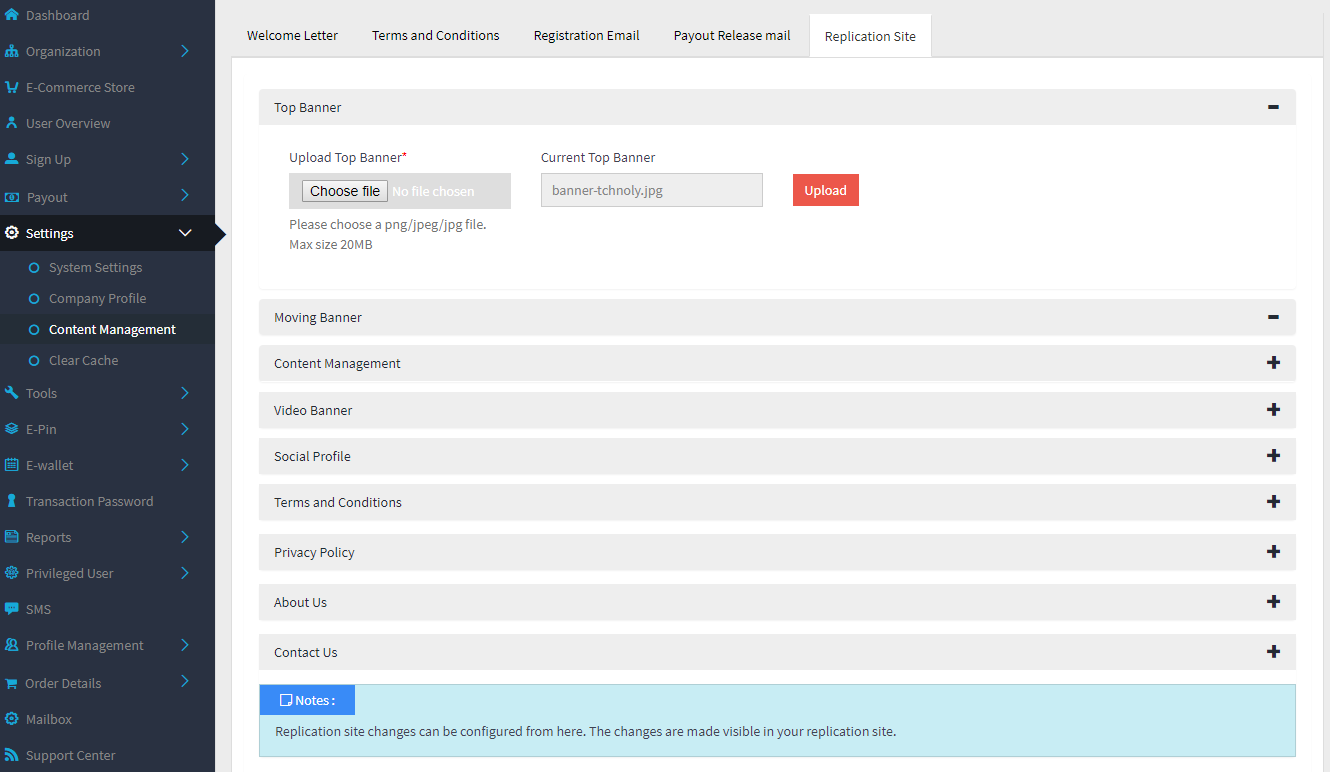 All details shown in replication page is configurable

Option to add content from individual user side
More about replicated website for MLM Business
15. CRM
16. Epin Transfer option
Epin transfer option in both admin and user side
17. Google authentication
For bitcoin payment method only – block chain, block trail, and bitgo
18. Transaction password reset option
19
.

Configuration change history
Configuration change tracking

Correct tracking if admin change any configuration
20. Menu changes and design changes
21. Language
We provide Arabic, Chinese, English, French, German, Italian, Polish, Portuguese, Russian, Spanish, Turkish and now introduced Russian language to our system.
Want to know more about Infinite MLM Software? You can try out MLM Software Demo here for free.