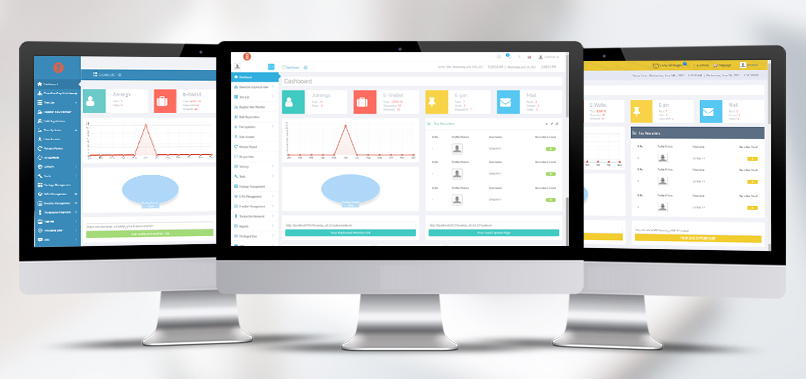 Infinite MLM Software announces the release of new version 8.0, after the successful acceptance of the beta version. We are successfully running MLM Software for nine years and now we proudly announce the release of the latest version. Our company professionals have done strict research on the market strategy and considered every concept and developed MLM software with additional features. We have got great acceptance for the versions that have already updated hence well-pleased for the latest version release which provides entire new looks and improvised user experience. Infinite MLM Software offers all the advanced features to generate more revenue in MLM business. Our MLM Software will put up with new period revisions. We always follow the latest trends and features. Our improved version of MLM software meet the real world challenges.
MLM Software is getting hold all over the world also demand is increasing day by day, where it helps to control and keep the record of all the marketing network. This is the best opportunity for every MLM related businesses to generate more revenue in their business by updating the version of MLM software. We are the best MLM Software providers for MLM Business, for any network marketing company that utilize to improve their success in business. We only provide advanced features for success.
The new version updates include many features including CodeIgniter version upgrade, Opencart upgrade, stairstep plan, package validity, repurchase, bitcoin integration treeview, Leg point value updation history, Dashboard Design and content changes, tree updation so on.
The additional features of Infinite MLM Software version 8.0:
Repurchase
Added two product type as registration and repurchase.

Option to add to cart and update cart.

Individual product page with basic information.

Added existing payment system.

Additional options to purchase products.
Package validity
Added package validity for registration project.

Automatically deactivate user after package validity period.

After expire, available only basic menu(dashboard, logout, member management, reactivation).

Expire date will be displayed in dashboard before one month of the expiry date.
Bitcoin integration
Bitcoin integration with block trail.

Added in registration and payout release section.
Leg pv (point value) updation history
Shows correct tracking of point value (business volume) updation in binary plan even after binary commission calculation.

Date wise pv added details.
Dashboard Design and content changes
Top five recruiters under logged in user.

Top five earners under logged in user.

Reminder (Notification).
Shows following notifications;
For admin side:-
Epin request.

Payout release request.

Any feedback added by users.
User side:-
Epin approval.

Payout release.

Any document added by admin side.
Tree updation
Delete user.

Change placement.

Change sponsor.
Opencart : admin confirmation for Cash on delivery
For a cash on delivery registration or purchase, it will not reflect or add to the MLM until admin confirm the purchase.
 Redesigned Error pages
Redesigned dashboard, user and admin with different theme.
Cache clear option
Codeigniter Version upgrade
Existing version is  2.0.3 and is upgraded to 3.1.2
Opencart Version upgrade
Existing version is 2.0.3.1 and Upgraded to 2.3.0.2
Stair step plan
We expanded stair-step plan with new functionalities and features.
These above given features are added in upgraded version of Infinite MLM Software to improve the MLM business growth. Register and Try out our Free MLM Demo.